Protesters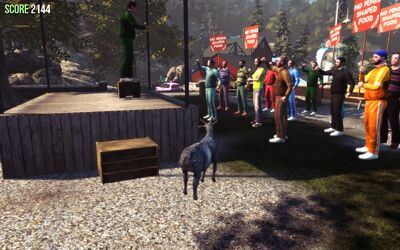 The Protesters are a location in GoatVille.
A group of humans are gathered around a stage. Many are holding signs that say "No penis shaped food". A man on the stage seems to be addressing them.
If explicit content is turned off in Settings, the signs will say "No Pointy Food", This happens in the IOS/Android version as the explicit content has been removed due to its lower age rating and also the Xbox.
The protesters are near a blue house, across the street from the Treehouse.
There is a trophy behind the stage.