GoatVille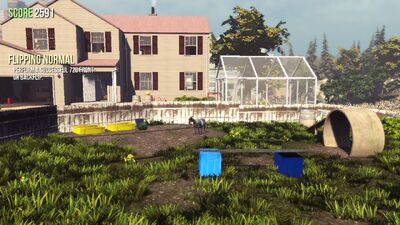 "Like smallville, but with some goats"
GoatVille is the original map that was included with the launch of Goat Simulator. It features all kinds of fun things to headbutt, lick, explode, and even sacrifice.
Originally referred to as the Classic Map, with the 1.1 patch release on June 3rd, 2014, the map was renamed to "GoatVille."
GoatVille is a small rural town on the outskirts of the city. Though most of the area is residential, there are a few businesses, such as the gas station, the Low Gravity Testing Facility, and Coffee Stain Studios. The town has its dark secrets, though - humans make goats fight for their amusement in the fighting ring, and there are rumors of alien abductions and sacrificial rituals. There aren't just goats and humans though.
There are even rumors of robots.
There are two tunnels leading out of the town, labeled "Him Len 5km" and "Helvete 3km" (Swedish for "Heaven" and "Hell" respectively). Both tunnels lead to Goat City Bay.
There are 37 quests in GoatVille, though some can be completed in Goat City Bay as well.
There are 30 trophies hidden in GoatVille. Collecting them all unlocks the Try Hard achievement.
For a list of GoatVille locations, see Category:GoatVille Locations.
==Mobile==and IOS By the gas station, there is a school bus that leads to GoatVille High.