Casino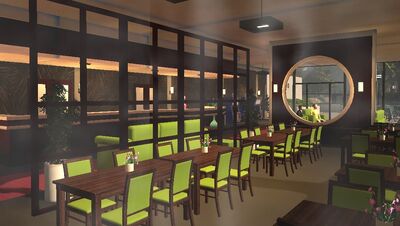 The Casino is a location in Goat City Bay.
In the casino are three "wild cherries" slot machines which can be played by pressing Special, although they never give any sort of payout, You can explode the furniture if you get 3 cars on the wild cherries game. There is a counter with a stack of money on it, and a car battery behind it. On the roof is a mattress that can be used to reach the Skyscraper Balcony.
The Casino is on the bay side of the Skyscraper.
The Slot Machines are a special to spend time playing a game in a game. The furniture explodes.
There is a trophy in the circle-shaped hole in the middle of the casino.